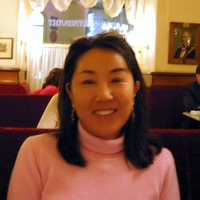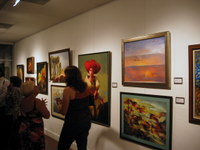 "There are so many beautiful things in life and in this world.
When I see something beautiful, I long to capture the impression of color, air, and mood. I paint because I believe only a painting can capture the subject as well as its 'genius loci' - the unique atmosphere or spirit about it.
My goal is not so much about creating a meticulously accurate representation but depicting emotional response to the subject. I want the viewers to connect to the subject through positive emotions and flashbacks of pleasant memories. I am always looking for right color and brush strokes to convey the message, while keeping my style to reflect the subtlety and boldness true to my cultural roots. I strive to improve my technique in order to do the subject justice."
The art is a lifelong journey, and she feels that on a solid base of good understanding of design and technique, her journey can go further.
Keiko paints both with acrylic and oil. She loves the rich color, texture and beautiful sheen of oil, and enjoys transparency and multi-faceted color of thinly layered acrylic.
Keiko currently resides in metro Boston, Massachusetts.
For more information, please send an email to krichterart@gmail.com
Some of her original small paintings can be purchased from keikorichterart.etsy.com
Please follow her blog for the latest works and events krichterart.blogspot.com
Events & Exhibits
Paint Essex: Annual En Plein Air Painting and Wet Paint Auction Essex, MA
Painting demonstration at Woburn Reads: Art and Inspiration, Woburn Public Library, MA
SMFA Art Sale - School of the Museum of Fine Arts, Boston, MA
Arts Collaborative of Wakefield Art Exhibit, Wakefield, MA
Wakefield Paint Out & Art Walk, Wakefield, MA
Woburn Guild of Artists' Annual Exhibition, Woburn, MA
*** 2nd Place ***
Wakefield Paint Out & Art Walk, Wakefield, MA
Conyers Olde Town Gallery Annual Paint Out & Plein Air Show, Olde Town Gallery & Studio, Conyers, GA
*** 2nd Place ***
RFAA Genesis XVII Juried Exhibitiion, Roswell, GA
The Seventh AAC Multi-Artist Mixed Art Exhibit, Atlanta, GA
Roswell Fine Arts Alliance South Cobb Invitational Show, Mableton, GA
Roswell Fine Arts Alliance Genesis XVI Juried Exhibitiion, Roswell, GA
Chattahoochee River Paint-Out Exhibition, Roswell, GA
Buena Vista Annual Artist Home Showcase and Pineapple Festival, Miami, FL
Master's Mystery Art Show, Miami Beach, FL
"Atelier by Baruj Salinas" Group exhibition, Cremata Fine Art Gallery , Miami, FL
"Urban Landscapes" Group exhibition, Tower Theater, Miami, FL
"Tema Libre" Group exhibition, Tower Theater, Miami, FL
"Entre Mares" Group exhibition, Tower Theater, Miami, FL